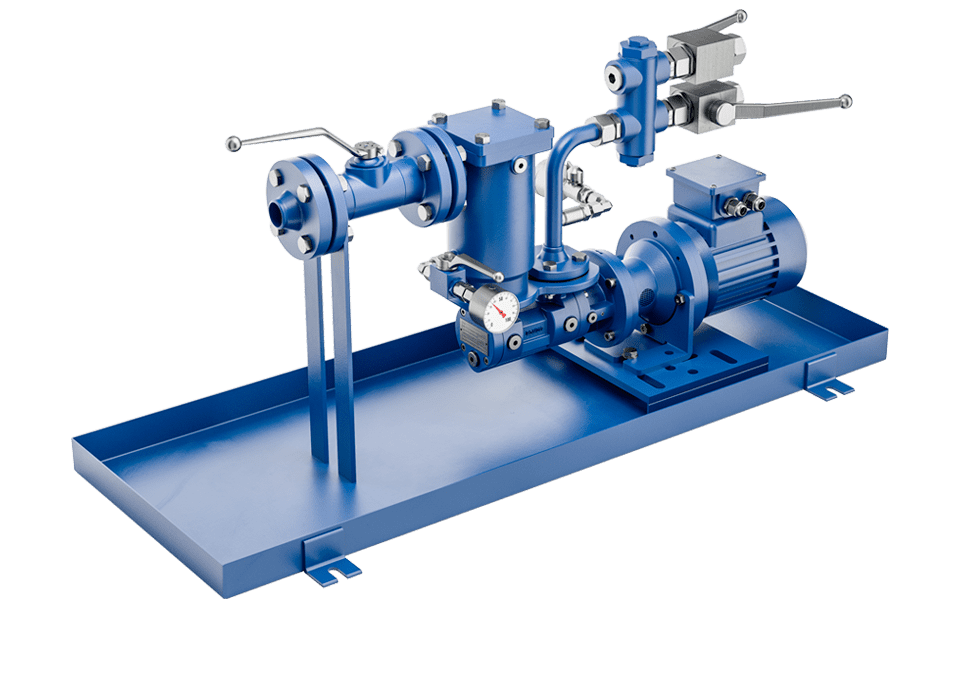 Differential pressure monitoring
Differential pressure monitoring
An optical display or an electrical differential monitor with signal can be used.
Pump variations
Pump variations
Single stations can be set up with KRAL pumps for pressures up to 40 bar.
Heating
Heating
For preheating highly viscous fluids.
Constant pressure monitoring
Constant pressure monitoring
A manometer is fitted to the middle of the station to allow for monitoring of the feed pressure.
KRAL Oil Burner Pump Stations EK / EL.
Oil burner pump as complete station with additional functions.
These positive displacement pump stations combine all the advantages of the KRAL screw pumps K and L with additional functions for smooth and user-friendly operation. KRAL screw pumps convey highly efficient lubricating fluids, are low-wear, very compact and space-saving.
Operation, materials, components.
Delivery rate: 5 to 280 l/min.
Max. differential pressure: 40 bar.
Temperature range: -20 °C to 180 °C.
Housing: Nodular cast iron EN-GJS-400.
Screws: Steel, nitrided.
Approvals: ABS, BV, CCS, DNV, GL, LRS, MRS, NK, RINA.
ATEX: II 2 GD b/c group II, category 2.
Heating: Electrical, media or steam.
For viscous fluids up to 7,000 mm²/s.
The functions of the oil burner supply station of KRAL with K or L series screw pumps can be expanded individually, for example with:
Pressure regulation
Degassing
Flow metering
Filter
Gas / air separator.
The mounted display instruments can swivel. Left- or right-handed installation can be set up individually at the site.

KRAL offers the optimal solution for every customer requirement. Just ask us, we have probably solved a similar problem already!