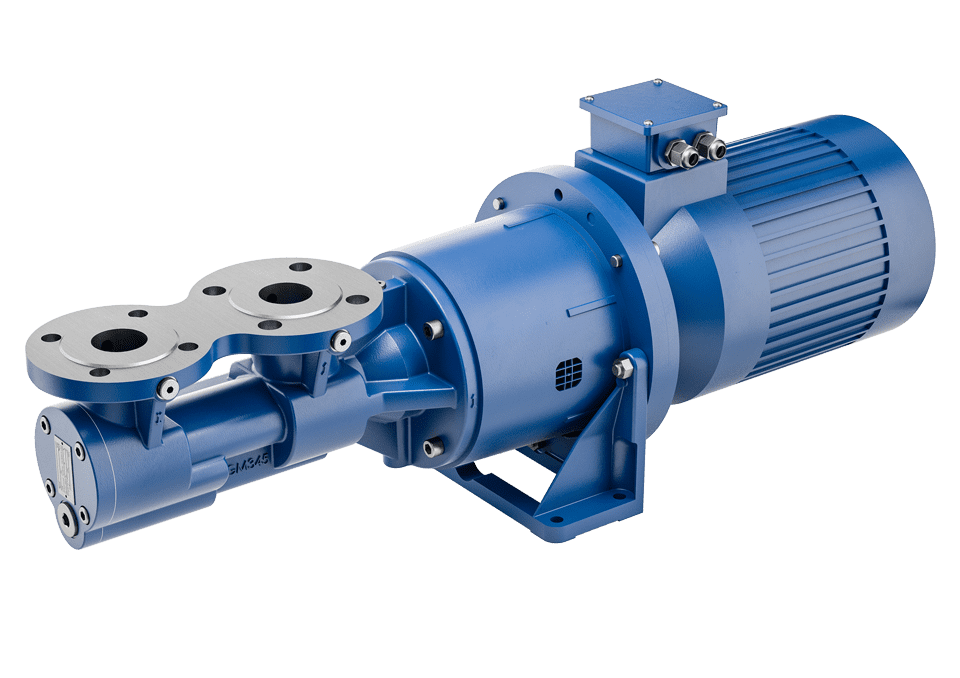 Advanced surface treatment
Advanced surface treatment
The pump casing is specially heat treated to improve its anti-friction properties and minimize wear.
Self-venting
Self-venting
Venting between the pressure and suction side starts directly at the mechanical seal. This ensures that even if the pump is mounted vertically, any trapped air will be displaced through the medium into the vent line.
Protection from overpressure
Protection from overpressure
A built-in overflow valve protects the pump from overpressure.
Detachable end cover assembly
Detachable end cover assembly
All rotating parts such as bearing, seal and balance piston, are pre-assembled in the special designed end cover. This end cover assembly can be easily removed to simplify assembly, dismantling and maintenance.
KRAL L Series Screw Pumps.
Our middle pressure pump.
Robust, low wear and easy to maintain.
KRAL L series pumps offer clear options and are easy to service. From the smallest to the largest size, L series screw pumps offer integrated top and inline flanges. Reliable startup, minimal wear and ease of maintenance simplify the operation of this line of pumps.
Operation, materials, components.
Delivery rate: 5 to 200 l/min.
Max. pressure: 63 bar.
Temperature range: -20 °C to 180 °C, magnetic coupling to 300 °C.
Housing: Nodular cast iron EN-GJS-400.
Screws: Steel, nitrided.
Approvals: ABS, BV, CCS, DNV, GL, LRS, MRS, NK, RINA, KR.
ATEX: II 2 GD b/c group II, category 2.
Heating: Electrical, media or steam.
How the L series screw pump fits into the KRAL product range.
KRAL L series screw pumps extend the pressure range from the 16 bar limit of the K series to 63 bar. This places the medium-pressure L series screw pump between the KRAL K and C series.

In standard applications, the L series screw pump can be a cost effective alternative to the CG series.
The L series screw pump takes high pressure marine applications a step further. Its casing is made from ductile iron and is therefore approved for use on board ships.
The L series screw pump also has a sealed, lifetime-lubricated, external bearing, which is not exposed to the pumped medium and is maintenance-free.
Easy servicing.
The main spindle of the L series can be disassambled together with the seal casing, as all the rotating parts are pre-assembled in the removable end cover. This makes the screw pump particularly easy to assemble, dismantle and maintain.
KRAL L series use lifetime-lubricated, external ball bearings. FKM sealing discs with high temperature stability prevent wash out. This increases the life of the bearing and reduces maintenance costs.

The innovative one-piece casing design guarantees that pressure-side leakages are a thing of the past.