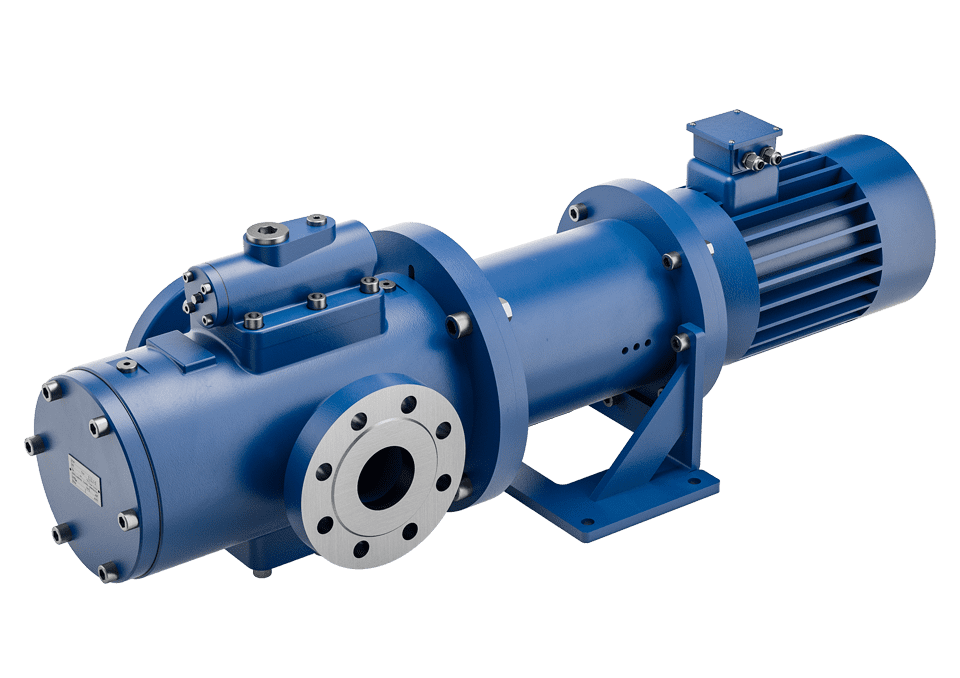 Radial shaft seal ring
Radial shaft seal ring
The CK series screw pump is only available with a radial shaft seal ring. The CL series screw pump can be equipped with different shaft sealing options thanks to the longer screw set. External bearings are also possible. This pump line is used as a horizontal or vertical foot-mounted or flange-mounted pump as well as in in-tank vertical arrangements.
Longer screw set
Longer screw set
Thanks to the longer spindle an external ball bearing is optionally offered.
Seal housing
Seal housing
Depending on the operational requirements various shaft seal options are possible for the CL series. The CL series screw pump is the cartridge (insert) pump of the CG series. The various housing options allow enormous flexibility in terms of the liquid connections. An external overflow valve can optionally be attached to the CG series screw pumps.
Flexible connections
Flexible connections
If the outer casing is made from fabricated steel, then almost any positioning, direction, size, type and rating of flange can be achieved. It can be ideally suited to match the installation situation.
External overflow valve
External overflow valve
The overflow valve ensures that the liquid is rerouted should excess pressurization occur.
Housing variants
Housing variants
Depending on the operational requirements cast iron or steel housings are offered for the CG series.
KRAL C Series Screw Pumps.
For pressures of up to 100 bar.
Efficient, self-priming high-pressure pump up to 100 bar.
Pump solution for high pressures at an excellent price-performance ratio. With KRAL screw pumps of the C series you buy high-pressure pumps with all the advantages of our KRAL pumps K and L: robust, low-wear, flexible, space-saving, durable and much more. Compared to other pump solutions, KRAL screw pumps convince with highest reliability, even under different operating conditions the screw pumps are highly efficient.
Due to the wide range of possible applications, we offer the KRAL C series as standard in the CK, CL and CG series. The main components of these pumps are all the same, the differences lie in the individual details, matched to the requirements in different applications (see detailed description below).
Application examples: Injection pumps, feed pumps, burner pumps, jacking pumps, transformer oil cleaning pumps, hydraulic pumps and generally all applications in which efficient, reliable high-pressure pumps for lubricating media are required.
Operation, materials, components.
Delivery rate CK: 1,750 l/min.
Delivery rate CL: 1,750 l/min.
Delivery rate CG: 3,550 l/min.
Temperature range: -20 °C to 180 °C, magnetic coupling to 300 °C.
Pressure range: 70 bar; 100 bar.
Housing: Nodular cast iron, steel and aluminium.
Spindles: Steel, nitrided.
Certifications: ABS, BV, CCS, DNV, GL, LRS, MRS, NK, RINA, KR.
ATEX: II 2 GD b/c group II, category 2.
Heating: Electrical, fluid media and steam.
Manufactured to conform with API.