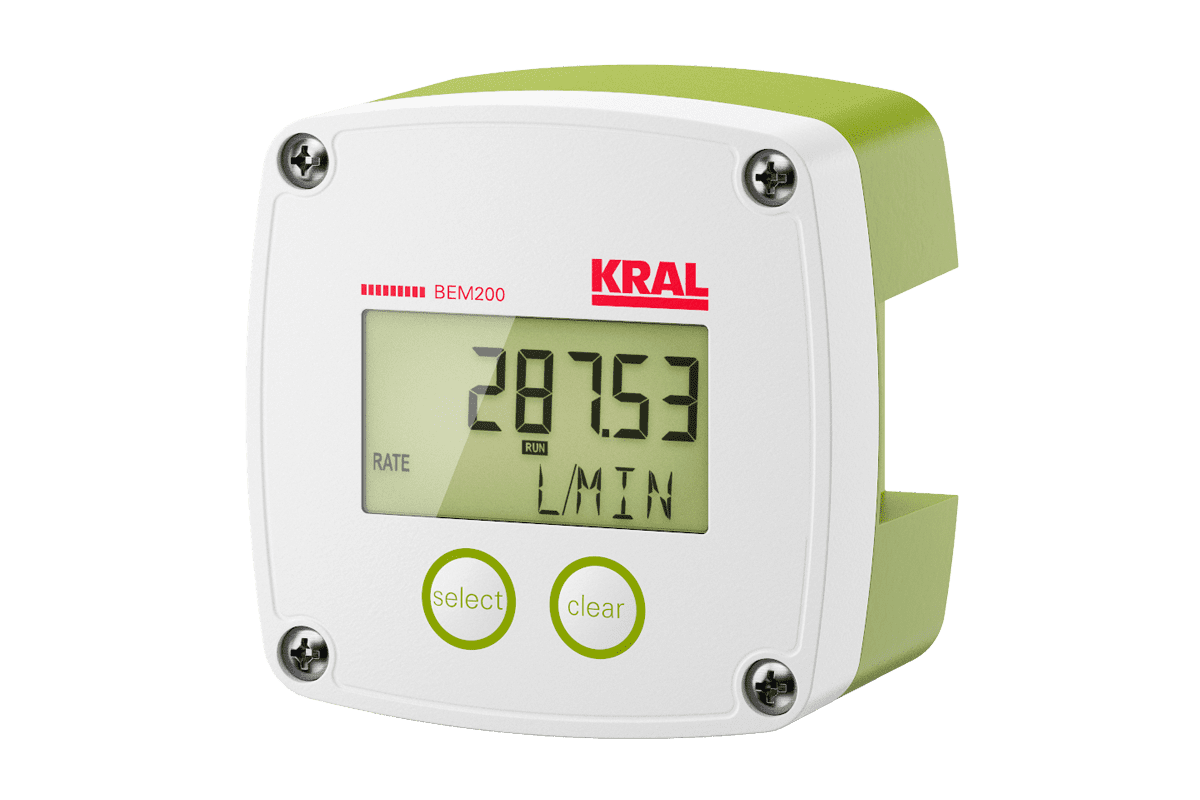 KRAL Display and Processing Unit BEM 200.
Local display, easy and compact.
The KRAL display and processing unit BEM 200 has a microprocessor for displaying the values of flow rate, total and accumulated total local.
BEM 200 is used in single-line measurements for displaying the flow rate and the total value (resettable and continuous).
Local mounting on KRAL flowmeters OME | OMP series.
Simple handling.
Good legibility through LCD.
Analog output 4 – 20mA (flow rate); pulse output for forming sum.
All settings are stored and will not be lost in the event of power failure.
Technical data

Technical data
BEM 200
Description
One-channel type. Display rate, total, accumulated total.
Power supply
10-30 V DC
Environment
Operating temperature
-20 bis +70 °C
Storage temperature
-20 bis +80 °C
Housing
Mounting
Mounting on flowmeter, wall mounting.
Dimensions
93 x 93 x 60 mm
Degree of protection
IP65
Material
Plastic
Mass
0.25 Kg
Sensor
Sensor type
PNP, Push-Pull, NAMUR
Sensor supply
10-30 V DC
Frequency
4 kHz NAMUR
Operation and electronics
Display
LCD (UV-resistant), 2 lines, 7 characters, different symbols and units
Keyboard
Micro-Switch keys (UV-resistant keypad)
Pulse output
Frequency maximum
1 output with 100 Hz
NEW - Analog output
4-20 mA