Energy Savings by Recovering Heat From Pump Test Stands.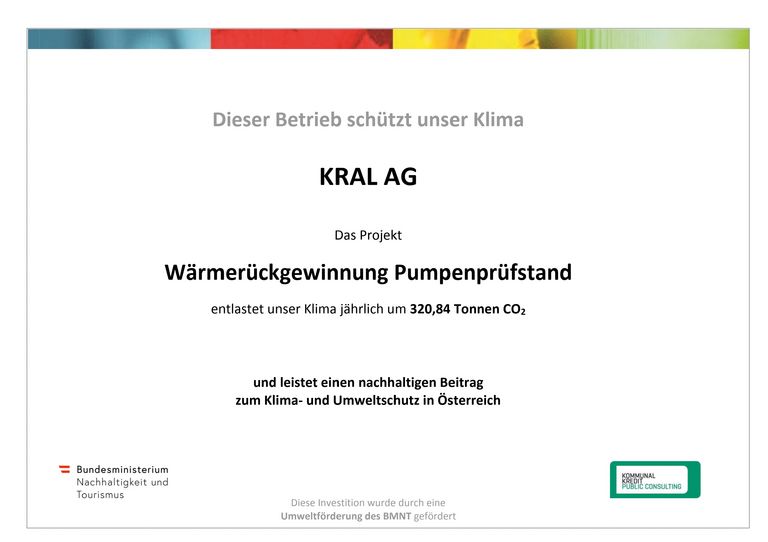 Aid from the European Regional Development Fund.
At their main headquarters in Lustenau/Vorarlberg, KRAL GmbH - with approximately 250 employees - produces pumps and flow measurement systems which are used in a variety of branches worldwide. KRAL takes their responsibility towards the environment and energy autonomy very seriously.
Back in 2005, a brine water heat pump was installed during the course of an office building extension, which provides part of the heating and cooling supply with the aid of energy piles. In 2011, during the course of a production plant extension, KRAL decided to construct a large-scale solar energy plant with 540 m2 of vacuum collector surface. In connection with an absorption refrigeration unit, ecologically-friendly cooling for the operational process has been guaranteed ever since.
KRAL is investing once again in an innovative energy savings project in 2018. With aid from the European Regional Development Fund (ERDF), heat recovery from pump test stands is being achieved with the help of high-temperature heat pumps. Together with additional renovation processes and extensions to the hydraulic systems, approximately 130,000 liters of oil can be saved per year, which also leads to a reduction of approximately 315 tons of CO2 emissions per year.
With this innovative project, KRAL is making an active contribution to environmental protection and ensuring a sustainable, worthwhile future.