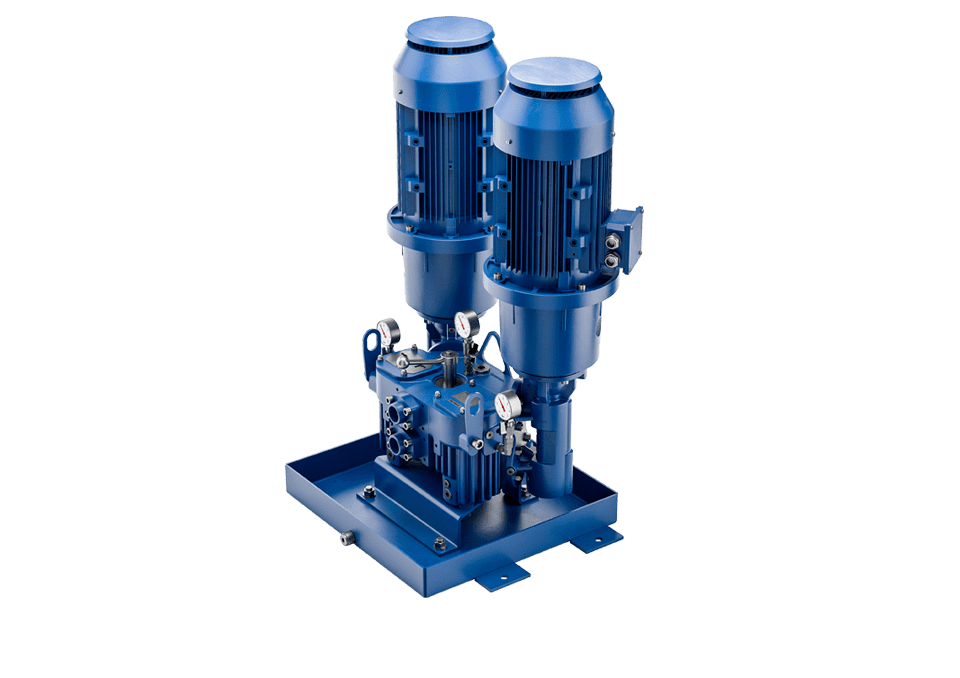 Heating
Heating
Electrical or medium heating for the preheating of highly viscous fluids.
Expansion valve
Expansion valve
To prevent an unacceptably high internal pressure within unused parts of the block due to heating and thermal expansion, the switch valve cylinder has two small expansion valves.
Different fluids
Different fluids
A two-way valve can be switched manually, electrically or pneumatically, allowing for switching between two types of fuel.
Pump variations
Pump variations
Double stations can be set up with KRAL pumps for pressures up to 40 bar.
KRAL Pump Stations DKC / DLC / DS/L.
Two pumps provide more than double the advantages.
Maximum operational reliability with a standby screw pump.
There are critical applications in which a second screw pump is prescribed for security. Typical examples are booster modules of oceangoing ships, and burner stations in marine and industrial applications. Maximum reliability is required. The most common operating mode is therefore that one screw pump is running and the other is switched off (standby).
Operation, materials, components.
Delivery rate: 5 to 280 l/min.
Max. differential pressure: 40 bar.
Temperature range: -20 °C to 180 °C.
Housing: Nodular cast iron EN-GJS-400.
Screws: Steel, nitrided.
Approvals: ABS, BV, CCS, DNV, GL, LRS, MRS, NK, RINA.
ATEX: II 2 GD b/c group II, category 2.
Heating: Electrical, media or steam.
In the case of a ship, the failure of the fuel screw pump in the booster module means that the engine comes to a standstill. If the flame goes out in a burner, a production process will be interrupted or a heating system will fail. Such applications require security. For maintenance, the primary screw pump can be switched to the standby screw pump, without interruption.
Cost reduction through many functions in compact space.
If a second screw pump is necessary, it soon becomes clear that the cost of design, pipework and control is considerable. The space requirement for a structure involving individual components is also very large. A significantly more economical solution is represented by the completely newly developed DKC and DLC dual stations by KRAL. Two screw pumps of the K series up to 16 bar or L series up to 63 bar are fitted to one block. The block integrates all functions within minimum space, and is available with many further options.
Light and heavy fuel oil operation.
For alternate operation with two liquids, the operator does not need to do expensive pipework. As an option, a liquid changeover switch can be fitted. In this way, KRAL dual stations are connected to two pipeline systems with different liquids. Switching between the liquids is manual, electrical or pneumatic. For remote monitoring of the lever position, limit switches are available.
Service without stopping the screw pump.
Reliability through a standby screw pump which is always available is the basic idea of the dual station. In this way, maximum reliability is ensured. After the changeover, the switched-off port of the station block is depressurized and the screw pump can easily be removed. The ship's engine continues to run, the production process is not interrupted, the heating system continues to operate.
Extremely easy installation.
KRAL dual stations are quickly set up and fixed. In the simplest case, the suction and pressure lines have to be connected. Done! The connections for the suction and pressure sides are at the front, so they are easy to reach. In contrast to the traditional structure involving two individual screw pumps, apart from connecting the suction and pressure lines no development, design or pipework is required. That saves a lot of time and money.
Compact, space-saving design.
The design of the new dual stations reduces the space requirement for all applications with two screw pumps considerably. Nothing remains as it was in the previous model. Implementing new ideas and new technological possibilities, KRAL has completely redesigned the station block and the components. Its compactness has reached the limit of what is technically feasible.
Highest flow rates on demand.
The dual stations DKC and DLC are eminently suitable for simultaneous operation of two KRAL screw pumps of the K or L series. By parallel operation of both screw pumps, the flow rate can be doubled.

Many useful options are available:
Heating variants for heating highly viscous liquids
Two-way valve for switching between liquids
Pressure-retaining valve for constant feed pressure
Pressure switch for monitoring pressure
Differential pressure display for monitoring the loading of the strainer
Temperature measurement of the liquid
Monitoring leaked oil
Strainer cover protection to prevent accidents caused by oil being sprayed out.

Accessory: KRAL precision flowmeters OMA series.
Maintenance work without downtime. KRAL double stations DL/DS make it possible.
KRAL block aggregates stand out for their ready-for-connection, compact construction. Both of the installed KRAL screw pumps are self-priming pumps with low pulsation and operate at a low noise level. Switching over from the operating screw pump to the reserve screw pump can be carried out electrically or manually. Screw pump maintenance and filter cleaning can be performed without interrupting operations.

KRAL double stations in block execution are especially used in oil firing service for delivering heating oil, circular pipeline transfer screw pumps and burner screw pumps for industrial furnaces, in public buildings, in the ship building industry, and anywhere a continuous supply of oil is required.
Your advantages.
High operating safety
More functions
More safety with two screw pumps
50 % less space requirement
Simple installation
Available with magnetic coupling.
Technical data

DKC series.

Technical data
5-42
55-118
Qth (1450 min-1, 0 bar)
l/min
5-43
59-119
Max. pressure at pressure flange
bar
K
16
16
KFT
16
Temperature
°C
with NBR rotary lip seal
80
80
with FKM rotary lip seal
150
150
with mechanical seal standard
150
150
with mechanical seal hard material
180
180
with magnetic coupling standard
180
180
with magnetic coupling high temperature
250
250
Viscosity
mm²/s
min.
2
2
max.
10,000
10,000
Max. pressure at suction flange
bar
with rotary lip seal
6
6
with mechanical seal standard
6
6
with mechanical seal hard material
6
6
with magnetic coupling
16
16

DLC series.

Technical data
5-10
15-26
32-54
55-85
Qth (1450 min-1, 0 bar)
l/min
5-10
15-26
32-58
58-84
Max. pressure at pressure flange
bar
63
63
63
63
Temperature max. pumped liquid
°C
with radial shaft seal NBR
80
80
80
80
with radial shaft seal FKM
150
150
150
150
with mechanical seal standard
150
150
150
150
with mechanical seal hard material
180
180
180
180
with magnetic coupling *
Viscosity
mm²/s
min.
1.5
1.5
1.5
1.5
max.
7,000
7,000
7,000
7,000
Max. pressure at suction flange
bar
with radial sealing ring
6
6
6
6
with mechanical seal standard
6
6
6
6
with mechanical seal hard material
6
6
6
6
with balanced mechanical seal
model LFI/LFT/LFW/LVI/LVT
20
20
20
20
model LFM
6
6
6
6
with magnetic coupling *
* customer-specific, contact KRAL

DS/L series.

Technical data
5-10
15-26
32-54
Qth (1450 min-1, 0 bar)
l/min
5-10
15-26
32-57
Max. pressure at pressure flange
bar
6
6
6
Temperature max. pumped liquid
°C
with radial shaft seal NBR
80
80
80
with radial shaft seal FKM
150
150
150
with mechanical seal standard
150
150
150
with mechanical seal hard material
180
180
180
Viscosity
mm²/s
min.
1.1
1.1
1.1
max.
7,000
7,000
7,000
Max. pressure at suction flange
bar
with radial sealing ring
0.5
0.5
0.5
with mechanical seal standard
6
6
6
with mechanical seal hard material
6
6
6