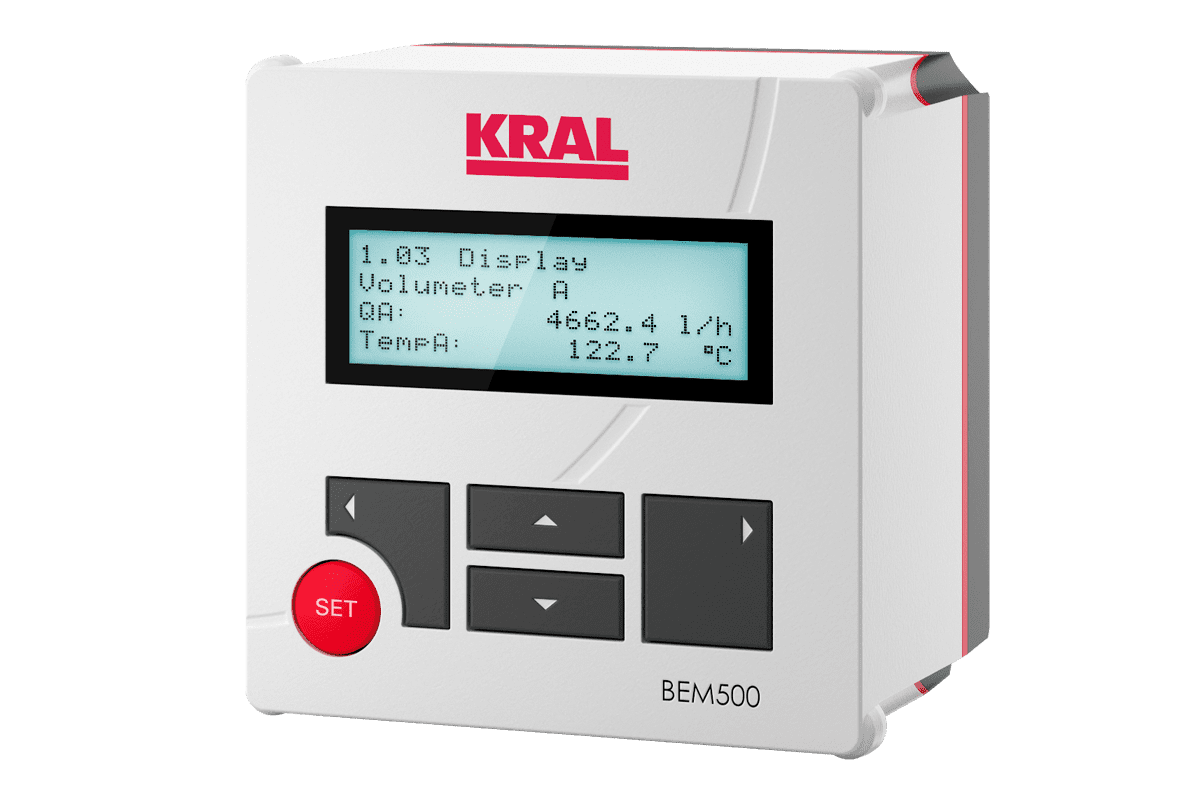 KRAL Display and Processing Unit BEM 500.
The all-rounder, designed for consumption measurement in circulation with flow and return flowmeters.
The display and processing unit BEM 500 measures the consumption of an engine, generator or other consumer in which a flowmeter is installed in the supply and return line. Both flowmeters are connected to the BEM 500 and in the simplest cases, consumption is calculated from both measured values.
However, the BEM 500 can do much more: In addition to the flow rate, two temperature inputs are also available. The respective sensors are installed directly in the flowmeters. With the measured temperature in the supply and return lines, the measured volume is compensated according to a stored curve of the medium.
As with the BEM 300, the BEM 500 uses complex algorithms to calculate the "effective" flow rate, less any return flows that may occur (e.g. due to pulsation in the line). As with the BEM 300, this requires the use of a second sensor on the flowmeter to detect the direction of flow.
A Modbus output is available for the output of all raw and calculated data.
For differential measurement with flowmeters in the supply and return lines.
Volume compensation based on measured temperature.
Detection of flow direction and correction of measured values of occurring return flows.
Calculation of the mass of flow rate and consumption based on measured temperature and volume plus manual density.
Input of 7 calibration points possible (linearization).
Relay, pulse, analog and Modbus output.
Technical data

Technical data
BEM 500
Power supply
24 VDC (+- 20%)
Environment
Operating temperature
-20 to +70 °C
Storage temperature
-20 to +80 °C
Housing
Dimensions
116 x 116 x 118 mm
Protection class
IP65
Material
Plastic
Weight
1.0 Kg
Assembly
Wall-mounted, control cabinet installation
Display
LCD, 4 lines
Signal inputs
OMG
BEG 43D, BEG 44, BEG 45 (+BEV 13), BEG 553A/54A, BEG 06(A), BEG 47D/E
OMP
BEG 56A, BEG 45 (+BEV 13), BEG 47G
OME
BEG 60A, BEG61A, BEG 62A, BEG 47C
OMH
BEG 44, BEG 45 (+ BEV 13), BEG 53/54, BEG 06
Temperature sensor
Pt100
Signal outputs
Impulse output
2x (max. 250Hz)
Relay output
1x (250 VAC / 30 VDC)
Analogue output
2x (4 bis 20 mA/ 0 bis 10 V)
Bus output
Modbus RTU (RS 232/485), Slave
Description
Number of sensors
2 measurement devices (with 2 sensors each)
Display
Display of flow rate. Total, accum. Total
Additional functions
Flow direction detection and backflow compensation, temperature compensation, mass calculation with manual density (as per DIN 51757), linearization of the calibration curve