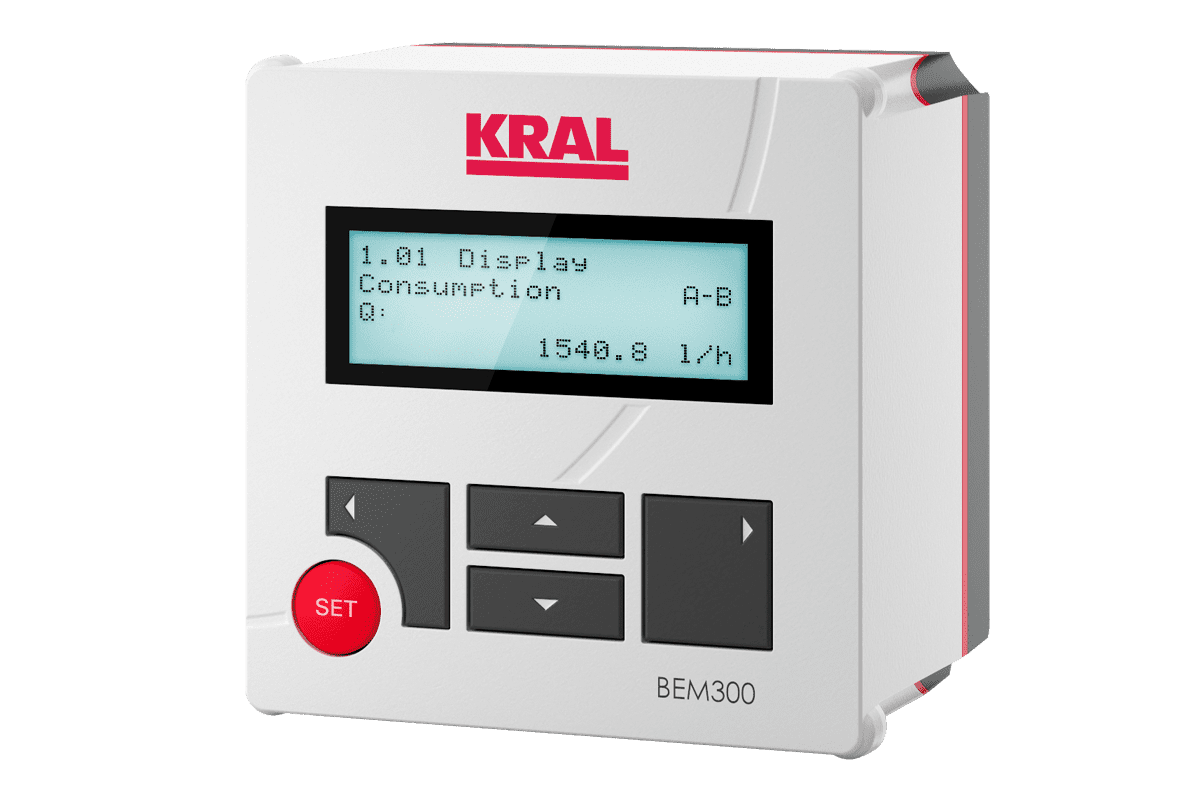 KRAL Display and Processing Unit BEM 300.
Local display with Modbus-output for demanding measuring tasks.
To detect the direction of flow, KRAL flowmeters use a second sensor which detects the direction of rotation of the spindles. The BEM 300 display and processing unit uses complex algorithms to calculate the "effective" flow rate, less any return flows that may occur (e.g. due to pulsation in the line).
A Modbus output is available for the output of all raw and calculated data.
Simple connection and integration.
Clear, legible display.
Simple menu structure and handling.
Detection of flow direction; return flow calculation and flow rate compensation.
Technical data

Technical data
BEM 300
Power supply
24 VDC (+- 20%)
Environment
Operating temperature
-20 to +70 °C
Storage temperature
-20 to +80 °C
Housing
Dimensions
116 x 116 x 118 mm
Protection class
IP65
Material
Plastic
Weight
1.0 Kg
Assembly
Wall-mounted, control cabinet installation
Display
LCD, 4 lines
Signal inputs
OMG
BEG 43D, BEG 44, BEG 45 (+ BEV 13), BEG 553A/54A, BEG 06(A), BEG 47D/E
OMP
BEG 56A, BEG 45 (+ BEV 13), BEG 47G
OME
BEG 60A, BEG61A, BEG 62A, BEG 47C
OMH
BEG 44, BEG 45 (+ BEV 13), BEG 53/54, BEG 06
Temperature sensor
-
Signal outputs
Impulse output
1x (max. 250Hz)
Relay output
< 0.1%
Analogue output
1x (4 to 20 mA/ 0 to 10 V)
Bus output
Modbus RTU (RS 232/485), Slave
Description
Number of sensors
2 sensors
Display
Display of flow rate. Total, accum. Total.
Additional functions
Flow direction detection and backflow compensation